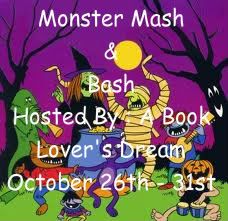 Welcome to the Monster Mash & Bash Giveaway Hop!
Enter to win three hardcover books, published this summer, from New York Times Bestselling Authors.
Betrayal of Trust by J. A. Jance – Released 7/5/2011
"At first glance, the video appears to be showing a childish game: Â a teenage girl with dark wavy hair smiles for the camera, a blue scarf tied around her neck. Â All of a sudden things turn murderous, and the girl ends up dead. Â It's as bad as a snuff film can get, and what's worse, the clip has been discovered on a phone that belongs to the grandson of Washington State's governor… Â Seattle investigator J. P. Beaumont uncovers a dark and deadly conspiracy that reaches deep into the halls of state government, in this latest thriller from New York Times Bestselling Author J.A. Jance."
Killer Move by Michael Marshall – Released 6/28/2011
"Stephen King called Michael Marshall's debut novel The Straw Men, 'a masterpiece… brilliantly written and scary as hell." Â With Killer Move, the acclaimed author of Bad Things and The Intruder demonstrates that he has only gotten better with time. Â The electrifying story of a man on the fast track to success who finds that his life has been chillingly 'modified' by someone, somewhere with a very different master plan for his future, Killer Move is a remarkably intelligent, genuinely creepy thriller from Phillip K. Dick Award-winner Marshall."
Trader of Secrets by Steve Martini – Released 5/31/2011
In this book, defense attorney Paul Madriani is embroiled in a case as perilous as any he has ever faced: Â one that involves an angry killer who will stop at nothing short of vengeance, and two missing NASA scientists who are holding secrets that a hostile government desperately wants to purchase – in blood, if they must. Â From the nation's capital to California, from Bangkok to Paris and the jungles of Mexico, Madriani and his party race against time to find Liquida and the scientist who is the 'trader of secrets' before he can unleash the weapon that could set the world ablaze."
Enter in the Rafflecopter form below. Â Good luck!