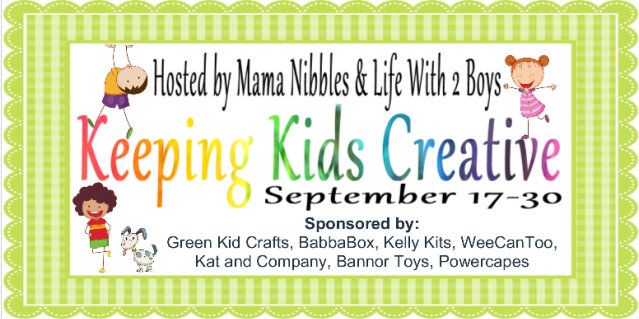 Welcome to the Keeping Kids Creative Giveaway Hop!
The last week of September has been Nationally designated as "Keep Kids Creative Week". While this week is often celebrated in schools with many fun activities to help stimulate kid's creativeness, parents can also take advantage of this week to do some really fun things at home. Many parents struggle with finding time to fit creativity in but there are lots of products out there to help us with getting those creative juices flowing. Mama-Nibbles and Life With Two Boys created this event to help you find some fun products to keep your family creative not only during "Keep Kids Creative Week" but any time of the year!
Keeping Kids Creative begins on September 17th at 12:01am EST and ends on September 30th at 11:59pm EST. Â Along with the awesome prizes that each of the participating blogs are offering we also have 3 Grand Prizes thanks to our sponsors BabbaCo, Green Kid Crafts, Kelly Kits, PowerCapes, Bannor Toys, We Can Too, and Kat and Company.
 Here at Kelly's Lucky You,

you can enter to win Safety Pin Bracelets Kit and Supplies from Klutz!
Safety Pin Bracelets helps anyone craft an entire collection of brilliantly sparkling jewelry out of garden-variety safety pins. The book includes 12 dazzling bracelet designs. Whichever design you choose, you pick the colors and patterns so each bracelet is uniquely you and the open-and-shut packaging keeps all your craft supplies organized and neat.
Comes With:Â 325 safety pins, 1100 beads, 6 feet of metallic elastic cord, customizable bracelet grids
For ages 8 and up
Written By: Kaitlyn Nichols
Extra Supplies:
Make even more safety pin bracelets! This pack includes the same 175 safety pins, 1100 beads, and 18 feet of metallic elastic cord that come with Safety Pin Bracelets.
Enter In The Rafflecopter Form Below!

After you enter here,

don't forget to "hop" to the other blogs!

a Rafflecopter giveaway
The other participating blogs are:

Disclosure: Â Keeping Kids Creative bloggers and hosts are not responsible for sponsors who do not fulfill prizes.